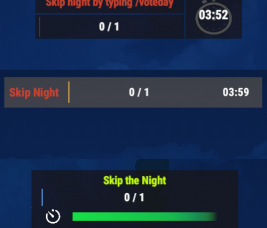 k1lly0u
A UI skip night plugin with completely customizable interfaces
---
Supported Games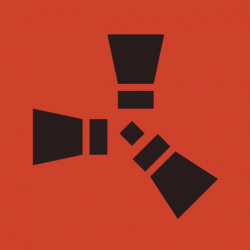 A UI skip night plugin that you have complete control over the UI interface. Create many different styles of UI easily and switch between them using the UI setup in the configuration. Comes with 3 pre-designed UI panels!
Permissions
skipnightui.admin - Allows player to use the admin commands
Chat Commands
/voteday - Used to cast your vote
/voteday open - Force open a vote (requires permission skipnightui.admin)
/voteday close - Close an open vote (requires permission skipnightui.admin)
Configuration
Progress Types
These are various types of progression meters. You have 3 types to choose from and each have their own options to adjust.
Solid - This creates a solid bar of color
Graphic - This utilises a image as the progress bar
Text - Display text
Alignments
Alignments are used for text based elements. You can position your text differently in its own text element by adjusting this.
The various types are: _LowerCenter, LowerLeft, LowerRight, MiddleCenter, MiddleLeft, MiddleRight, UpperCenter, UpperLeft, UpperRight
Notes
The order of generation is as follows;
Panel Elements
Image Elements
Text Elements
Vote Progress Elements
Time Progress Elements
Each of the elements of those types are created in order of which you set them in the config. This allows you, for example, to set progress text over the top of a progress bar. You would not be able to create a standard text element over the top of a progress bar as standard text is generated first.
MIT License
Copyright (c) 2019 k1lly0u
Permission is hereby granted, free of charge, to any person obtaining a copy
of this software and associated documentation files (the "Software"), to deal
in the Software without restriction, including without limitation the rights
to use, copy, modify, merge, publish, distribute, sublicense, and/or sell
copies of the Software, and to permit persons to whom the Software is
furnished to do so, subject to the following conditions:
The above copyright notice and this permission notice shall be included in all
copies or substantial portions of the Software.
THE SOFTWARE IS PROVIDED "AS IS", WITHOUT WARRANTY OF ANY KIND, EXPRESS OR
IMPLIED, INCLUDING BUT NOT LIMITED TO THE WARRANTIES OF MERCHANTABILITY,
FITNESS FOR A PARTICULAR PURPOSE AND NONINFRINGEMENT. IN NO EVENT SHALL THE
AUTHORS OR COPYRIGHT HOLDERS BE LIABLE FOR ANY CLAIM, DAMAGES OR OTHER
LIABILITY, WHETHER IN AN ACTION OF CONTRACT, TORT OR OTHERWISE, ARISING FROM,
OUT OF OR IN CONNECTION WITH THE SOFTWARE OR THE USE OR OTHER DEALINGS IN THE
SOFTWARE.